Eclipse Cross Specials
These are some of our specials March 2019
19MY ECLIPSE CROSS ES 2WD CVT AUTO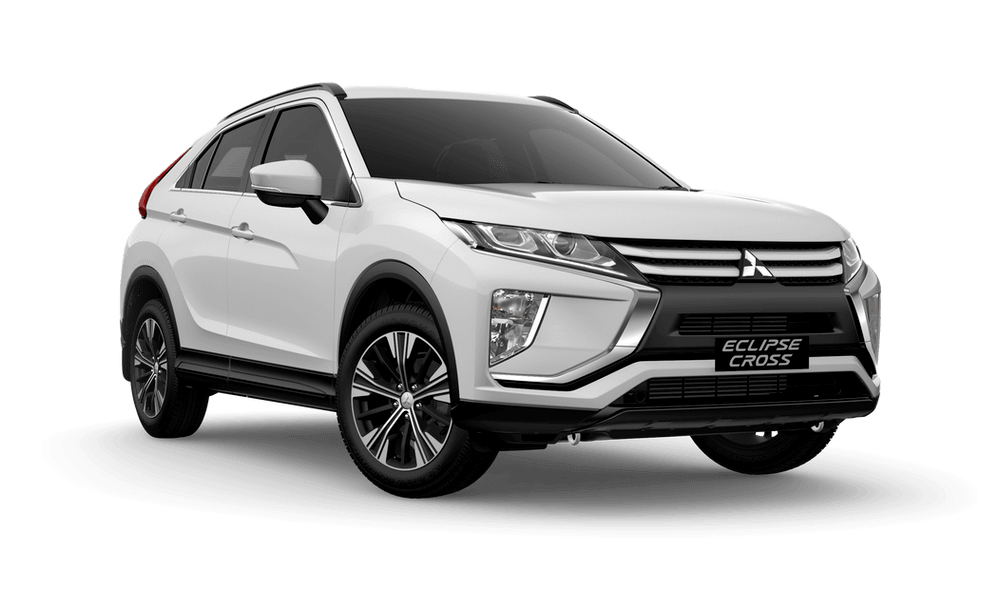 7Yr/150,000km Warranty+, 2Yrs FREE Servicing* & $1,000 FREE Accessories#
1.5L 4 cylinder MIVEC direct injection turbo charged petrol engine
Continuously Variable Transmission (CVT) with Sport Mode
Smartphone Link Display Audio with touchpad controller
Reverse Camera
Things you should know
Participating Mitsubishi dealers only. While stocks last. Mitsubishi Motors Australia reserves the right to extend or modify these offers. Offer valid for vehicles delivered by or before March 31, 2019. Excludes Govt, Rental and National Fleet buyers. See participating dealers for full Terms and Conditions. 1Recommended DRIVE AWAY selling price includes 12 months registration, CTP insurance, Stamp Duty & Dealer Delivery. +7 Year/150,000km warranty (whichever occurs first). Warranty available on new 19MY Triton models purchased between 17/12/2018 and 30/06/2019 and selected new and demonstrator 19MY ASX, 19MY Eclipse Cross, 19MY Outlander, 18MY Pajero & 19MY Pajero Sport vehicles purchased between 1 Mar and 31 Mar 2019. Service conditions apply. Valid from date of vehicle registration. *2 years/30,000km (whichever occurs first). Includes the first 2 regular services (15,000km/1 year and 30,000km/2 year). Any non-regular service/repair items are at an additional cost. Servicing must be completed by a Mitsubishi Dealer within 7,500kms or 6 months of the service due date. Valid from date of vehicle registration.#Genuine accessories at RRP and include fitment. Offer cannot be substituted for a reduction in the advertised drive away price or exchanged for cash
19Y ECLIPSE CROSS BLACK EDITION 2WD PETROL CVT AUTO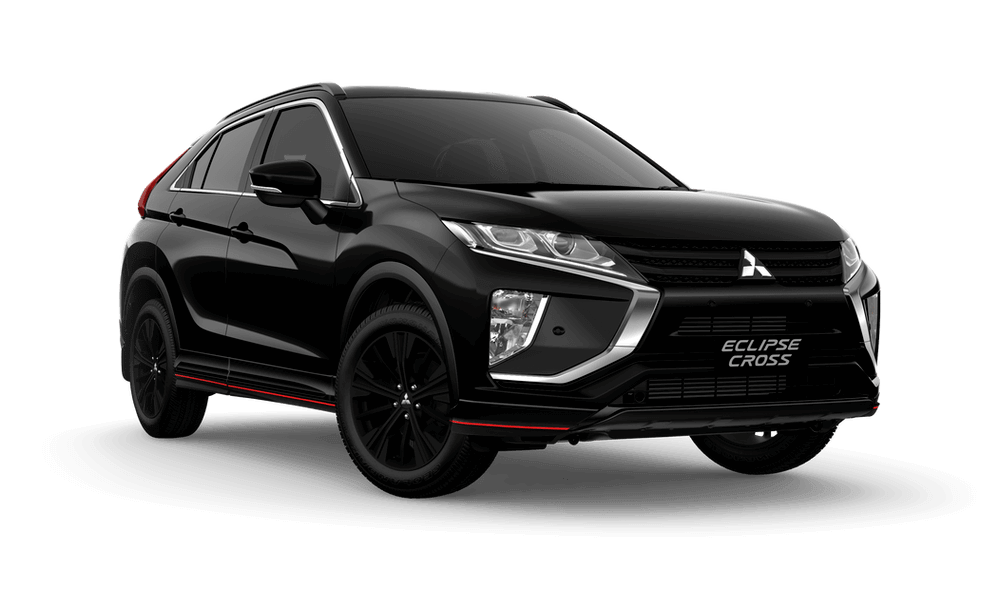 7Yr/150,000km Warranty+, 2Yrs FREE Servicing* & $1,000 FREE Accessories#
Black 18" Alloy Wheels
Black Grille
Black front corner, side & rear corner extension
Black side mirrors
Things you should know
Participating Mitsubishi dealers only. While stocks last. Mitsubishi Motors Australia reserves the right to extend or modify these offers. Offer valid for vehicles delivered by or before March 31, 2019. Excludes Govt, Rental and National Fleet buyers. See participating dealers for full Terms and Conditions. 1Recommended DRIVE AWAY selling price includes 12 months registration, CTP insurance, Stamp Duty & Dealer Delivery. +7 Year/150,000km warranty (whichever occurs first). Warranty available on new 19MY Triton models purchased between 17/12/2018 and 30/06/2019 and selected new and demonstrator 19MY ASX, 19MY Eclipse Cross, 19MY Outlander, 18MY Pajero & 19MY Pajero Sport vehicles purchased between 1 Mar and 31 Mar 2019. Service conditions apply. Valid from date of vehicle registration. *2 years/30,000km (whichever occurs first). Includes the first 2 regular services (15,000km/1 year and 30,000km/2 year). Any non-regular service/repair items are at an additional cost. Servicing must be completed by a Mitsubishi Dealer within 7,500kms or 6 months of the service due date. Valid from date of vehicle registration.#Genuine accessories at RRP and include fitment. Offer cannot be substituted for a reduction in the advertised drive away price or exchanged for cash
19MY ECLIPSE CROSS LS 2WD PETROL CVT AUTO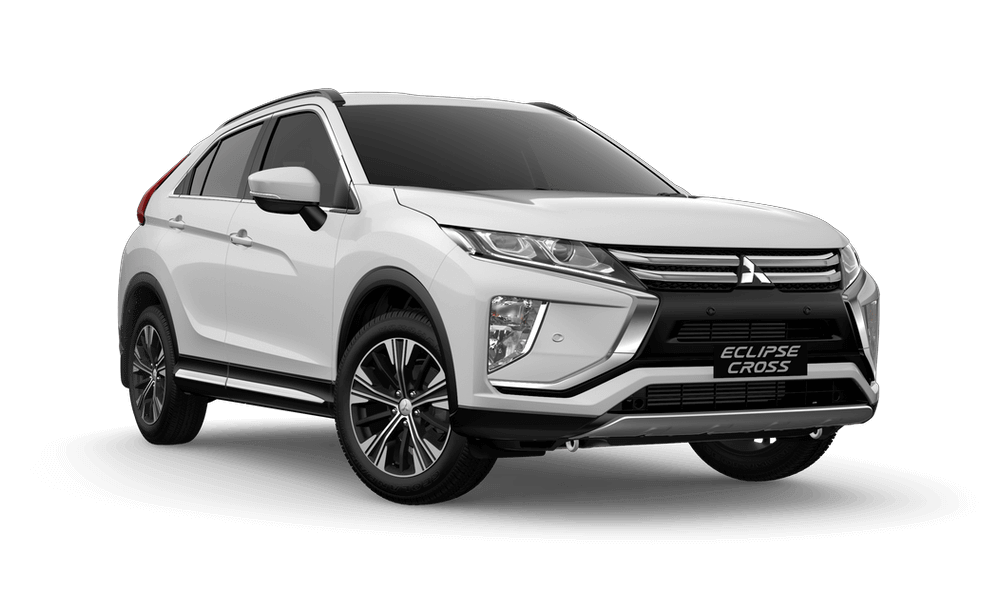 7Yr/150,000km Warranty+, 2Yrs FREE Servicing* & $1,000 FREE Accessories#
1.5L 4 cylinder MIVEC direct injection turbo charged petrol engine
Continuously Variable Transmission (CVT) with Sport Mode
Smartphone Link Display Audio with touchpad controller
Reverse Camera
Things you should know
Participating Mitsubishi dealers only. While stocks last. Mitsubishi Motors Australia reserves the right to extend or modify these offers. Offer valid for vehicles delivered by or before March 31, 2019. Excludes Govt, Rental and National Fleet buyers. See participating dealers for full Terms and Conditions. 1Recommended DRIVE AWAY selling price includes 12 months registration, CTP insurance, Stamp Duty & Dealer Delivery. +7 Year/150,000km warranty (whichever occurs first). Warranty available on new 19MY Triton models purchased between 17/12/2018 and 30/06/2019 and selected new and demonstrator 19MY ASX, 19MY Eclipse Cross, 19MY Outlander, 18MY Pajero & 19MY Pajero Sport vehicles purchased between 1 Mar and 31 Mar 2019. Service conditions apply. Valid from date of vehicle registration. *2 years/30,000km (whichever occurs first). Includes the first 2 regular services (15,000km/1 year and 30,000km/2 year). Any non-regular service/repair items are at an additional cost. Servicing must be completed by a Mitsubishi Dealer within 7,500kms or 6 months of the service due date. Valid from date of vehicle registration.#Genuine accessories at RRP and include fitment. Offer cannot be substituted for a reduction in the advertised drive away price or exchanged for cash
Build My Eclipse Cross
Start by selecting a model.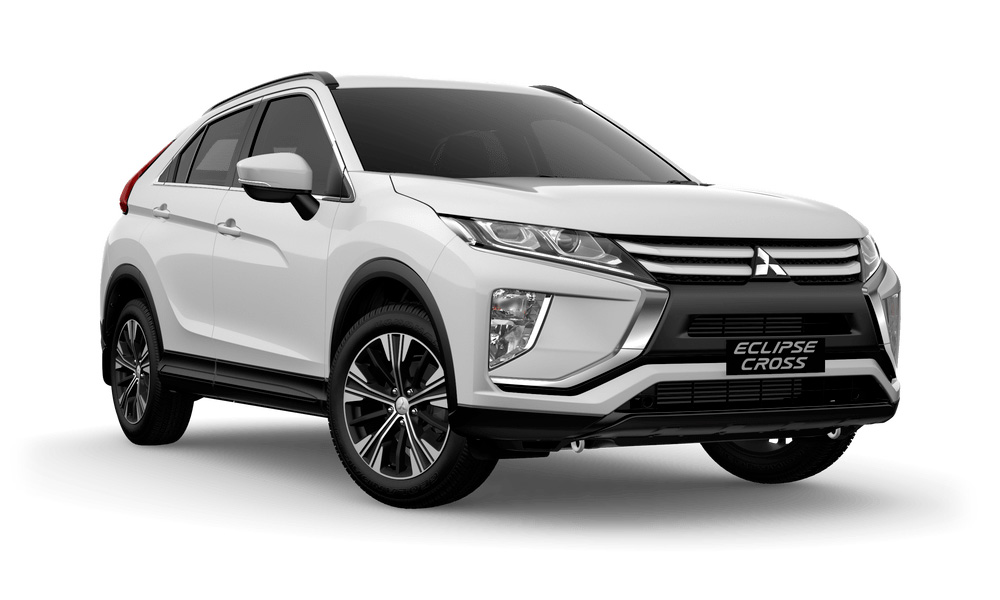 Eclipse Cross ES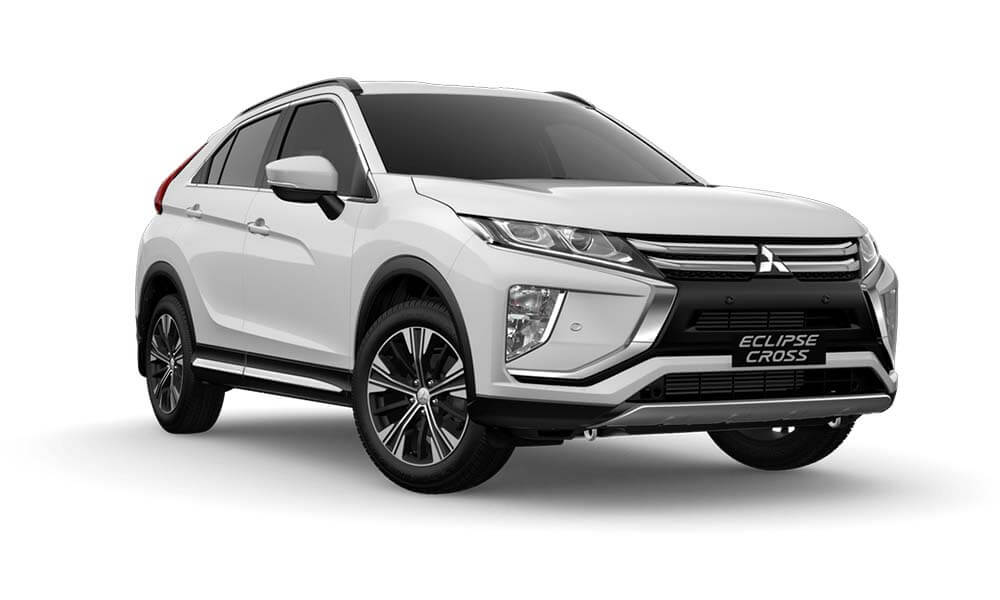 Eclipse Cross LS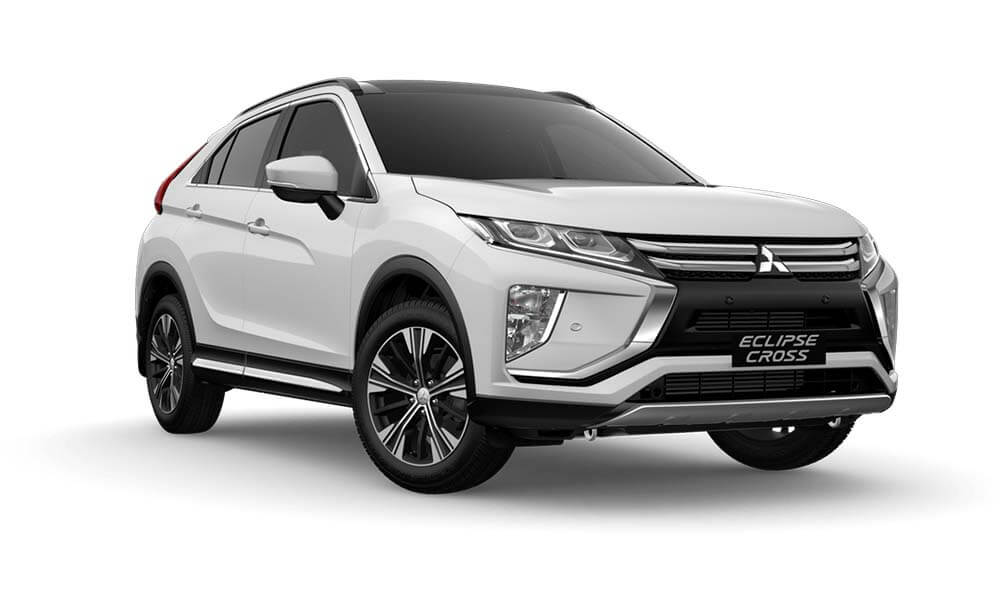 Eclipse Cross Exceed 2WD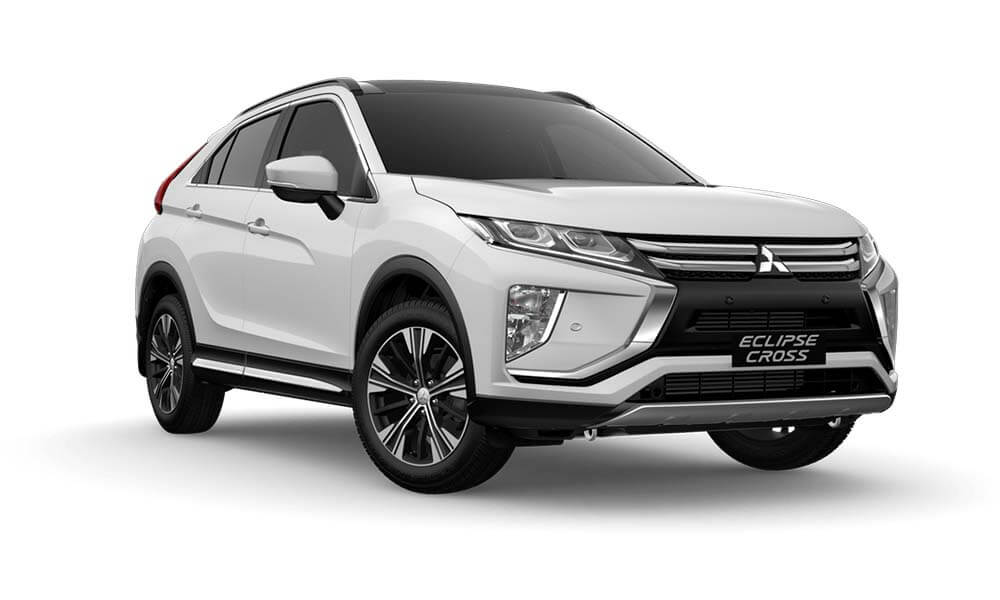 Eclipse Cross Exceed AWD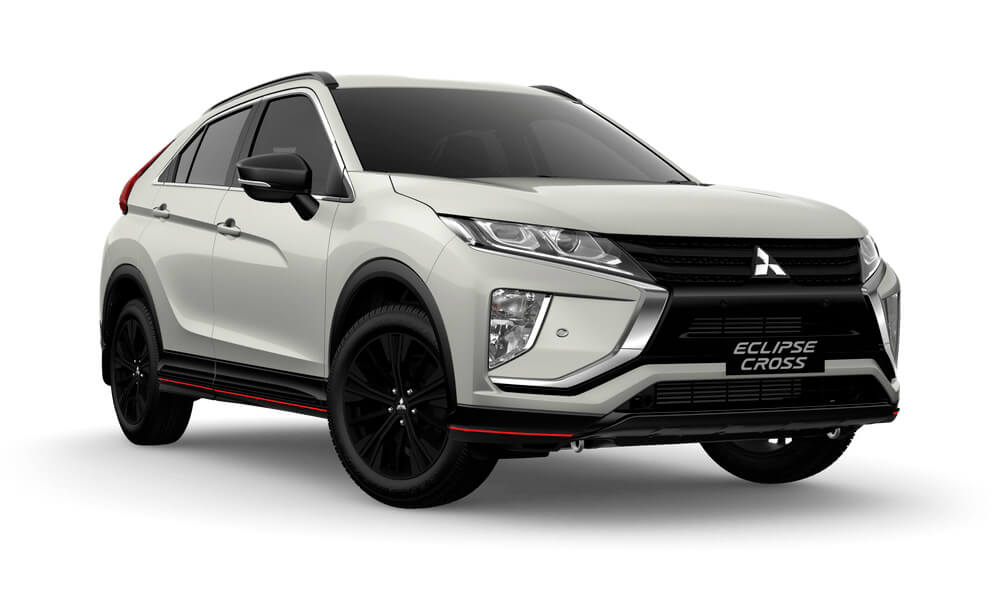 Eclipse Cross Black Edition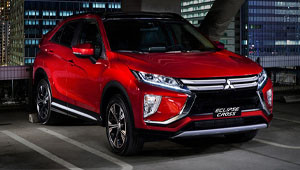 Vibrant and Confident
Eclipse Cross makes a bold statement. Its muscular profile, dynamic alloy wheels and LED lighting create a sophisticated balance of sport and style that reflects its individuality.
Exceed model shown.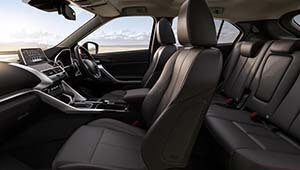 Compact yet Spacious
Comfort extends to every passenger in the spacious cabin with supportive contours and plenty of legroom, keeping everyone feeling refreshed on long journeys. Rear seats feature reclining and sliding adjustments to optimise the space shared between passengers and cargo.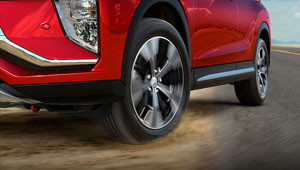 Stay in Total Control
Challenges arise when you least expect them. Whether navigating winding roads or snowy conditions, the Super All Wheel Control (S-AWC) system supplies optimal torque to rear wheels for enhanced vehicle dynamics, stability and control.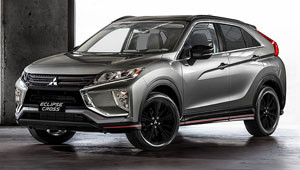 Eclipse Cross Black Edition
The Eclipse Cross Black Edition has arrived and with it a new level of styling attitude. Featuring unique black grille, black 18" alloy wheels, black mirrors, red stripped front, side and rear body extensions and privacy glass. Additional features include Smart Key, One Touch Start System and front and rear parking sensors for that extra peace-of-mind.
Limited stock. While stocks last.
Eclipse Cross Accessories
See all accessories available to enhance and customise your vehicle.
Mitsubishi Eclipse Cross Exterior accessories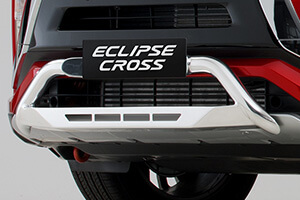 Alloy Nudge Bar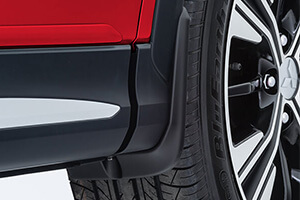 Mudflaps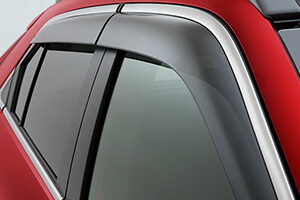 Weathershields